The Gospel Matters in counseling. 
So why do some Christians counselors act like the Gospel has no place in the counseling office?
This Gospel Matters series shares the Christ's compassion for the broken. The Gospel is good news for every person who chooses to trust Christ and accept the gift he offers: new life in him. Life change happens when the broken begin living for God rather than self. The Gospel becomes personal, leading to peace and contentment in every circumstance.
This series answers the question, Is biblical counseling really a viable, possibly a better, alternative than secular counseling?  
Read the first post on competency of Biblical Counselors and state-licensed counselors.
Read the second post on Biblical Counseling, the Gospel, and chemical imbalance that may contribute to mental/emotional difficulties. 

Claim #3: Christian Psychologists understand the depth of struggles; biblical Counselors have shallow or simplistic understandings of problems.
This quote trumpets this claim:
The premise of biblical counseling is seductive in its simplicity: God has given you a guide to humanity's most difficult problems, and the solutions are all in one place. But if you grant that non-biblical knowledge has any role to play—whether it is in 'challenging wrong interpretations of Scripture,' as biblical counseling pioneer Jay Adams suggests, or in parsing the line between which mental illnesses have biological roots and which do not—then the solutions stop being in one place. Scripture is no longer sufficient. And this upends the very premise of biblical counseling.
What Is Christian Counseling & What Are Its Limitations?
Why a "Christian" (yet non-spiritual) counseling methodology is inadequate.
I like to define "Christian counseling" as the conversation that Christ would have with someone who is struggling. Over and over throughout the each gospel, Jesus demonstrated how he sought to grow the faith of those he engaged with. As a Christian counselor, my goal is that my message, methods, and motives all mirror what Christ would have done and this means that true "christian care" is primarily spiritual.
I recognize that not every person plays the same role as we collectively seek to serve the hurting. However, every action we take in counseling ought to reflect our desire to serve God by loving others in ways that are faithful to his call. Christian counseling is a spiritual work–or it is not Christian counseling.

Proper Responses to Various Types of Problems
With clearly physical issues, biblical counselors recommend a physical healing response (including psychiatric medicine, rest, nutrition, exercise, and structure) as a spiritual act of worship in caring for the "temple" of God that we have been entrusted with in our bodies.
With spiritual issues, biblical counselors call counselees to greater trust in God by following him wholeheartedly and seeking to know him better.
With areas of doubt, there was a gentle yet patient beckon to increased faith. With anxieties, there was the reminder of God's presence in every conversation about worries. With inaccurate ideas and philosophies, the truth spoken in love seemed to be the way that Jesus met people where they are at. No counselor can truly claim to be "biblical" because this ideal is reserved for Christ alone. He is the "Good Counselor," and we biblical counselors often fall short of the mark.
However, I think the more that Christian counselors take their cues from Jesus, the more impact they will make in the lives of those they help. It is not shaming an unbeliever to share with them that complete wholeness can be found in Christ alone. I would agree that this should be done ideally in a counseling relationship where there is a mutual understanding of the need for grace and not the pressure of pleasing the counselor.
Creating Better Functioning Rebels
Secular mental health training can be useful and impact a counselor's ability to have these kinds of conversations. Secular training often vividly describes the behaviors, attitudes and physical responses that humans made in the image of God experience while living in a fallen world.
I often say that I don't care how many letters a counselor has after his/her name, but rather I desire to know if they embrace and live out the power of God in their lives by consistently applying the scriptures to life by faith. Do they trust the sufficiency of Christ's transforming power and believe that God's Word will guide us to embrace all that is profitable for us to live for God's purposes with our life?  Does their counseling have any supernatural power to it or can it all be explained in techniques and theories?

The bible is not a medical textbook and it doesn't claim to be. It's not an exhaustive history, sociology or legal text either.  However, it does guide us to embrace the usefulness of medicine, history, law and sociology. It does not give every detail about every aspect of these subjects. However, it warrants us to know and explore the creation that God has given us stewardship over.  It points us back to our new for a redeemer to rightly make sense of every discipline in life.
What Christian counselors with secular training often miss is that there are no grand truths or themes within psychology about which the bible does not teach extensively and accurately.
There will be no universally agreed upon tenet in the social sciences that the bible would not also affirm. The sufficiency of scripture is the belief that God guides every necessary aspect of life through the application of his Word, not that God's Word speaks about every detail of life. So the question when it comes to mental health is, How does the bible guide an effective approach to caring for this person who is made in God's image and dearly loved by him? How do we care for the soul and the body?
For example, I personally am not convinced that any group of counselors has come close to building the most effective model for care for the mentally ill. My friends who are medical doctors in hospital settings will readily affirm this. As a biblical counselor, I am deeply committed to helping churches improve in this area as I know mental health professionals are as well. Our message, methods and motives may not be the same; however, I do admire and affirm their intent to genuinely help those who are suffering. However, I am deeply convinced that those suffering with mental illness are helped to the greatest degree when the learn to trust a faithful God and accept the guidance from his word.
My challenge to Christian counselors is to let your light shine before men both in words and actions. Make the goal your counseling to help your counselees live for God's glory.  Otherwise, we can easily create "better functioning" rebels who learn to live life independent from God rather than dependent on him and who are little more than white-washed sepulchers when it come to the most important aspect of life.
Understanding the Divide 
One of the greatest strengths of the Christian psychologists I have interacted with has been that they seem to be really good at knowing their neighbor and entering in the lives of broken people and the complexities of their problems. They are good at observing, classifying and coaching people past struggling behaviors. However, I have also often observed that their counseling relationships fails to prioritize the importance of faith in the Gospel, the profundity of the scriptures, and the power of the Holy Spirit in their understanding of wholeness and healing.
I have also observed many biblical counselors who race right towards the Gospel, plunge into the depths of the scriptures, and encourage spirit-filled choices while failing to understand the complexities of the struggles of the neighbors they desire to help.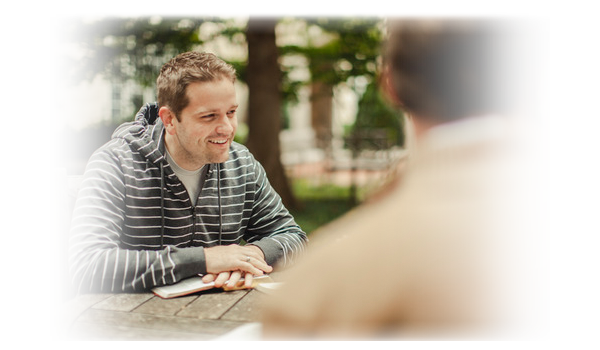 When you have a simplistic understanding of your neighbor's struggle, you will typically counsel the simple gospel truths of scripture to address them. This is how many biblical counselors can counsel with only a simplistic understanding of complex problems. This is also why many Christian psychologist ignore the spiritual dimensions of man in their counseling altogether.
If you have a incomplete understanding of your neighbor's problems, you will tend to prioritize problems differently than those with a more complete understanding of the problem. For instance, a sleep specialist will know far more about sleep disorders than a general doctor. A chaplain may also be an expert on the process of grief yet fail to understand addictions altogether. An incomplete understanding leads to incomplete guidance whether from a psychologist or a biblical counselor.
If a counseling model does not prioritize the spiritual dimension, it is woefully incomplete and will fail to accomplish all that it could. A counseling model that fails to understand that eternal matters are of far weightier importance than earthly matter will affect the goals and outcomes of the counseling. It will fail to understand that spiritual matters of the heart are the primary goal of Christian ministry even during the physical healings in Jesus' ministry.
If a counseling model does not prioritize the relational understanding, it is also woefully incomplete and inadequate. Effective counseling happens in relationship where the true heart-burdens of counselees can be drawn out and shaped to become healthier. The counseling ministry is a mix of grace and truth over time.
As Christian counselors, our goal needs to be to give practical guidance to help people engage in wise living that is consistent with God's purposes for their life. We are God's ambassador in the counseling relationship, and our goal must be to represent him accurately and well. The Gospel matters.
Do you or someone you know need counseling?
---
We are passionate about helping hurting people. We provide Skype counseling for people across the country, and live counseling in 5 offices across the Chicagoland area.
---
---