Editors Note: This article is part of our series on finding hope in the midst of depression. In this series, our counselors are helping people understand the reality of depression and how God sustains and helps those who are depressed. View the Series Page here.
---
As depression becomes more common and more talked about in society, many Christians are wondering what the Bible says about depression.
Depression can be very difficult to express or understand. We hear more and more people talking about depression, and see more people struggling with it.
Listen to the way that some who are going through depression describe what they are going through:
"Whenever I have a good few months and I think I've gotten over the worst on my depression, it silently returns. This isn't a battle I asked to fight. I'm tired of knowing it's always coming back."
"I wanted to write down exactly what I felt but somehow the paper stayed empty and I could not have described it any better."
"No one realizes how strong someone with depression has to be just to do daily stuff like shower, brush hair, or get out of bed."
"When you're depressed, you don't control your thoughts—your thoughts control you. I wish people would understand this."
"I am not using my depression as an excuse. Trust me, I'd give anything to function 'normally' on a day-to-day basis."
"There comes a point where you no longer care if there's a light at the end of the tunnel or not. You're just sick of the tunnel."
Everyone should feel compassion when hearing these stories of people who fight a daily battle with depression. It can feel hopeless when the waves of depression crash. Some waves feel bigger and some smaller, but they never seem to end.
Does the Bible have the answers?
Many people wonder if the Bible even addresses the struggle of depression because the word depression doesn't appear in Scripture. However, it's important to know the major factors that lead to or increase depression. For example, feelings of depression are most often a result of emotional stress.
Here are some emotional stressors that multiply feelings of depression:
Anger
Fear/Anxiety
Stress
Guilt and Shame (Real or False)
Broken Relationships (Death, Divorce, Dysfunction, Distance, or Damage)
Recent studies of individuals battling depression have identified these emotional stressors that multiply the feelings of depression and trigger waves of depressed feelings.
We cannot effectively deal with depression without evaluating our responses to the difficult circumstances and emotional stressors of our life. The Bible provides much guidance on how to respond better.
In order to reduce feelings of depression, we have to learn how to respond to emotional stressors.
Everyone has emotional stressors. Each person has stressors that hurt them and distract them from living a full life as God offers. At BCC, we often say that depression begins with disappointment. Our emotional stressors are often rooted in a deep feeling of disappointment regarding something we had and lost or about something we have longed for and never received.  Depression is a progression, which left unchecked can go deeper and deeper. The following chart illustrates how this often happens: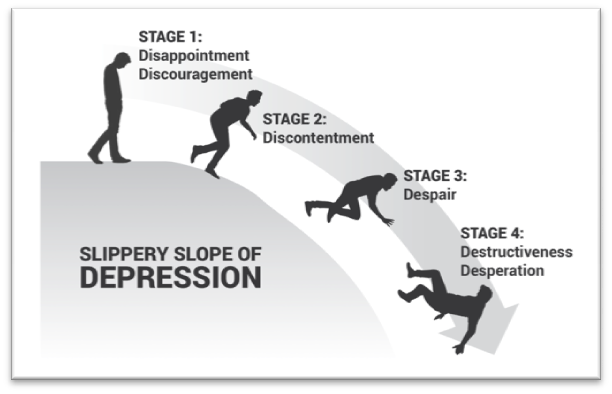 Stage 1: Difficult Circumstances Lead to Disappointment and Discouragement
"I have told you these things, so that in me you may have peace. In this world you will have trouble. But take heart! I have overcome the world."

John 16:33
Everyone deals with difficulty and trouble in this fallen world and our responses to those emotional stressors can start a slippery slope where depression intensifies over time. No one, not even deeply spiritual people, can avoid difficult circumstances. Living your life trying to avoid all difficult circumstances and people will prove futile and maddening. A better strategy is to develop mature responses. Consider how our emotional responses to the same difficulty can be mature or destructive:
Does my anger reflect God's heart or is it rooted in selfishness?
Is my fear more of a godly concern or distrust in God's ability to bring about good?
In my stress, do I bring obedience to God or a self-imposed standard that I put on myself?
In my shame, do I run back to God as my only hope, or do I think I must feel bad to earn it?
You likely struggled to answer the questions above with a firm "yes" or "no" because we have conflicting motivations and actions. Our emotions reflect the battle that always rages in our hearts, between what God wants and what our flesh and selfish desires want. However, if we are going to fight depression, we have to learn to evaluate our emotional stressors and how we have been responding to the difficult circumstances in life.
Here's a common question that comes up: "So does this mean that those who experience more difficulty are more prone to discouragement that could lead to depression?" Without a doubt, there are correlations that can make some more prone to depression. This is why depression is more likely in some families and communities than others. However, difficulties are common to every gender, race, economic condition, personality type, etc. 
Stage 2: Disappointment Can Lead to Discontentment
Not that I am speaking of being in need, for I have learned in whatever situation I am to be content. I know how to be brought low, and I know how to abound. In any and every circumstance, I have learned the secret of facing plenty and hunger, abundance and need. I can do all things through him who strengthens me.

Philippians 4:11–13
Disappointment with our circumstances can easily move into discontentment if left unchecked. Sometimes it is healthy to experience some discontentment because we know that God desires more from us or through us. However, prolonged discontentment will draw us away from God, not closer to him.
In verse 13 above, Paul offers to us strength and power in the midst of our difficult circumstances. He doesn't say you need to ignore or take an unrealistic view of your troubles. However, a mature response sees opportunity in difficulty and the discontentment puts a mature person into action with God's help to respond in a healthy way to the stressor. 
If we focus on the loss without focusing on the solution we have in Christ, we will only experience more deep-seated discontentment.
Stage: 3: Discontentment Can Lead to Despair
We are afflicted in every way, but not crushed; perplexed, but not driven to despair; persecuted, but not forsaken; struck down, but not destroyed.

2 Corinthians 4:8–9
Responding poorly to life's circumstances can bring us to a point of despair where we question why God has allowed these difficult circumstances and seemingly is not changing them. Throughout Scripture we see God's people come to a point of despair wondering if He is there and if He cares. When we are struggling with depression we are usually asking why these circumstances are in our life. 
Consider the words of David:
You know my reproach,
and my shame and my dishonor;
my foes are all known to you.
Reproaches have broken my heart,
so that I am in despair.
I looked for pity, but there was none,
and for comforters, but I found none.

Psalm 69:19–20
In our deep-seated discontentment, we look for comforters. Ultimately, God allows the discomforts of this world to remind us to come to him for comfort. However, we often turn to relationships, substances, food, sex, and entertainment for comfort. When those things don't satisfy, we go deeper into despair. We are searching for comfort and we not finding it.
In this stage, you may start struggling to do things that you want to do. At times even getting out of bed, brushing our hair, and performing basic necessities seem to difficult. Meeting a friend or going to church seems impossible and pointless. These are the lies of depression when despair sets in.
Stage 4: Despair Can Lead to Destruction
When despair has taken hold, destructive choices often result. You want to feel alive and in control again. You want comfort and escape. These four common escapes become a temptation to those in despair:
Escape in Relationships – Sometimes we run to relationships and sometimes we run from them in the midst of depression. In deep despair and depression, we easily distort what is really happening in the relationships around us. Unhealthy relationships and broken relationships often occur in the context of depression, which tempts us to ignore warning signs that we may otherwise see. Adultery is often preceded first by depression, and those seeking it are often seeking it to feel alive. Divorce is often preceded by depression as well. 
Escape into Substances – There is a high correlation between depression and destructive substance abuse. We want comfort and can find temporary relief in a bottle, pill container, or sugar rush. These provide only a brief respite from the pain. We know that substances don't work long term, but the allure of substances is the short-term relief they offer. 
Escape into Suicide – One of the aspects about despair that we see often in Scripture is the feeling of "despair of life itself." They wish they did not have to go on. They deceive themselves into thinking the world would be better without them and no one would miss them. The next step can be to contemplate and consider taking one's life. It's a tragic choice, but one that comes at the end of an exhausting and frustrating search for elusive answers and comfort. 
Escape into Isolation – One of the common responses to the pain of despair is the desire to be alone. Those who are severely depressed often convince themselves that this is the only way forward. They desire help, but seem to be too frustrated and tired to seek it. One of the best things their friends can do is to come near and faithfully show concern and care. 
Conclusion:
When it comes to depression, we can very easily focus on how the body responds to the emotional stressors of life and how the body feels when depressed. However, we miss an opportunity to better understand our story, how we have been responding to life's difficulties, and how God wants to mature us and grow us through the trials of life.  
Count it all joy, my brothers, when you meet trials of various kinds, for you know that the testing of your faith produces steadfastness. And let steadfastness have its full effect, that you may be perfect and complete, lacking in nothing.

James 1:2–4
It takes maturity to respond to life's trials. In your depression, if you endure with God's help, you will continue to mature and become the person that God wants you to be. We have the resources in Christ to respond to life's trials. While we can't avoid all trials, we can grow from them. Depression is an opportunity for growth, no matter what caused it because God has given us the resources to respond well.
Do you or someone you know need counseling?
---
We are passionate about helping hurting people. We provide Skype counseling for people across the country, and live counseling in 5 offices across the Chicagoland area.
---
---
Are you interested in learning to counsel others?
---
We believe that the Bible has the answers for a hurting world. We are passionate about training people and churches, through online courses and events, to help those in need.
---